Is your creative spirit raving for more space for your arts and crafts? With the right projector, you can unleash your artistry. This device will let you enlarge your drawings and bring them to a larger work surface. If you are into mural painting, that's where a projector will help you outline your future project on the wall. This device is also handy for video art and showcasing your portfolio. But which projector model is more suitable for these needs? In this review, you will find the list of the best projectors for artists that deliver great performance for your daily creative tasks.
Our pick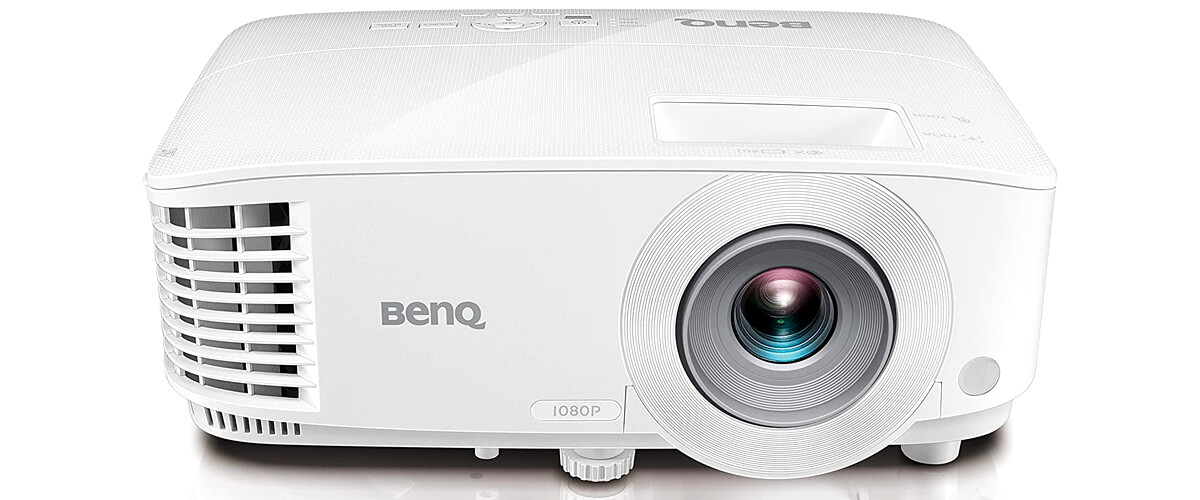 BenQ MH733
Best projector for artists
With Full HD native resolution in a widescreen 16:9 aspect ratio, MH733 offers subtle details, ultra-sharp readability, and highly enhanced display capacity for professional presentations.
Read the full review
.
Projector for artists comparison table
Name
Display technology
Resolution, px
Brightness, ANSI lumens
Contrast
Review
BenQ MH733

best overall

DLP
1920×1080
4000
16000:1
Review
NEBULA Cosmos Laser 4K

for professionals

DLP
3840×2160
2758
1500000:1
Review
Kodak RODPJS75

portable art projector

DLP
1920×1080
75
1300:1
Review
What to look for in an art projector
Projection size and throw distance
Undoubtedly, the image size you will be able to project and at what distance are the most important things you've got to consider before you decide on a particular projector model. Some devices are compact and will deliver an image of a maximum of 100 inches, while others are capable of enlarging the image to 300 inches and more. The throw distance is also critical and will depend on the room size. If you have a small studio, you'd better invest in an ultra short-throw or short-throw device. For a spacious room, you may get a long-throw projector.
Resolution
While 4K may be a great bonus in a digital art projector, allowing you to use the device for content watching, that's not an imperative parameter. Ultra full-HD resolution comes at a cost. So, if you'd rather save some bucks, a full-HD picture will be more than enough for your artistic needs. A 1920 x 1080 resolution will provide you with a clear and sharp image. Anything that goes lower may not be a good fit.
Brightness level
Are you purchasing a projector solely for in-studio use? Or will there be a necessity to bring the projector outdoors? In these cases, you've got to keep the brightness output of the device in mind. Mid-range projectors are designed to be used indoors, preferably – in the dark. If there will be some ambient light in your working area or you will use the item outdoors, consider investing in a projector with a minimal 3,000 lumens brightness.
Best projector for artists reviews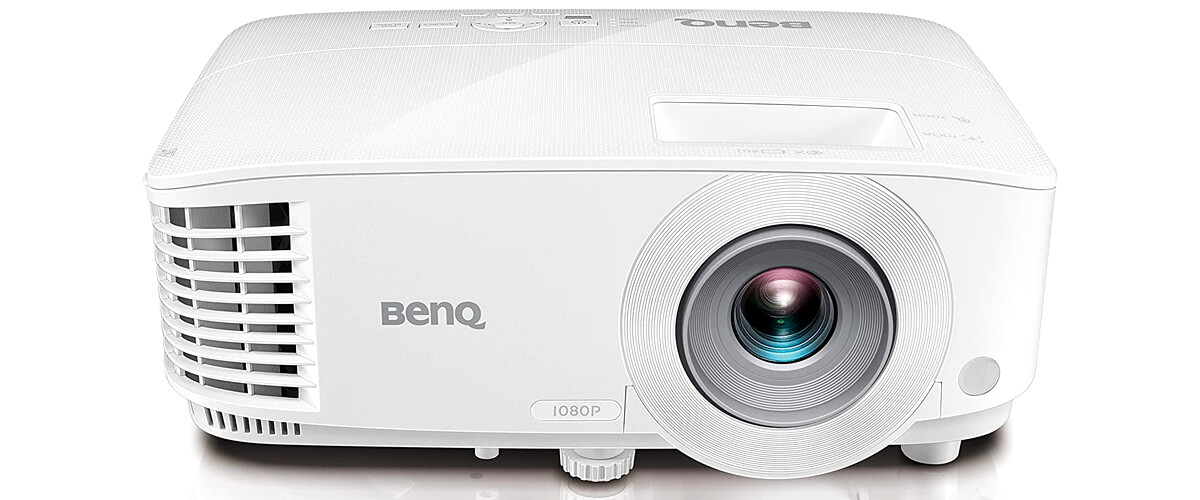 Day or night, indoors or outdoors, the BenQ MH733 projector will gladden you with its smooth performance. Unlike many of the analogs in my review, this device will project a clear image even in a bright room. And that is so thanks to 4,000 lumens.
The default settings of BenQ MH733 are quite bright. I like the availability of various customizable options – make the image dimmer or brighter. Full HD (1920 x 1080) native resolution brings the advantage of subtle details and ultra-sharp image reproduction.
This projector can output an image within the range of 30 – 300 inches, but I would recommend sticking with 60 – 180 inches for the utmost image clarity. With a 1.15-1.5 throw ratio, you've got to ensure there is enough space in your studio for proper placement.
BenQ MH733 allows streaming content from up to 4 devices. You can use HDMI cables (there are two ports out there), RS232, or USB to connect a laptop, PC, or other gadgets. There is no Chromecast, but the manufacturer provides the app to enable wireless image streaming.
Sometimes the image freezes on the load-up screen. The only way to fix the issue is to restart the projector two times (it won't start on the first reboot). It happened very rarely, but it happened. However, this small malfunction did not ruin my most positive impressions of this model.
As BenQ MH733 is meant to work with different image formats and is pretty bright, it makes the best projector for artists.
Key specs
Display technology: DLP.
Resolution, px: 1920×1080.
Brightness, ANSI lumens: 4000.
Contrast: 16000:1.
Throw distance, ft: 4-37.5.
Image size, inch.: 30-300.
Wi-Fi: no.
Built-in speakers: yes.
Pros
Bright enough to work in different light conditions.
1920×1080 native resolution delivers a sharp image.
You can hook up to 4 devices at a time, with an option for a wireless connection.
The image size range is vast – from 30 to 300 inches.
Cons
The projected image sometimes freezes and requires a double restart.
NEBULA Cosmos Laser 4K – for professionals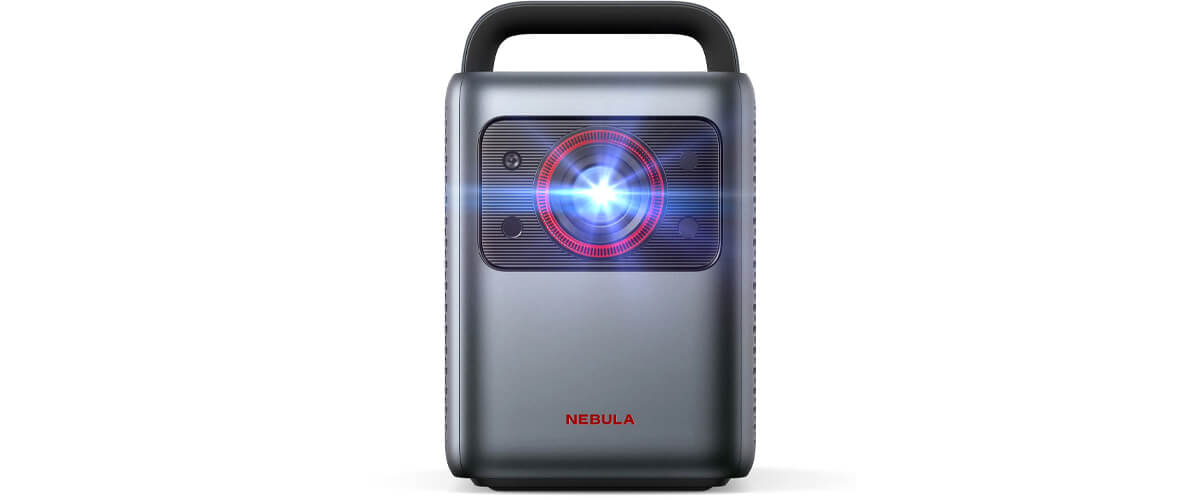 For getting serious gains from a projector, look at NEBULA Cosmos Laser 4K. This is a high-end device that will give you the advantage of stable, and most importantly, high-quality performance.
While BenQ MH733 supports the high-HD resolution, this NEBULA's model went further offering 4K compatibility. Therefore, it comes with 3840 x 2160 pixels giving the projected image epic detail. Additionally, the laser technology brings a decent level of brightness, saturation, and contrast, – all to throw an image that will let you make your perfect strokes on canvas or the wall.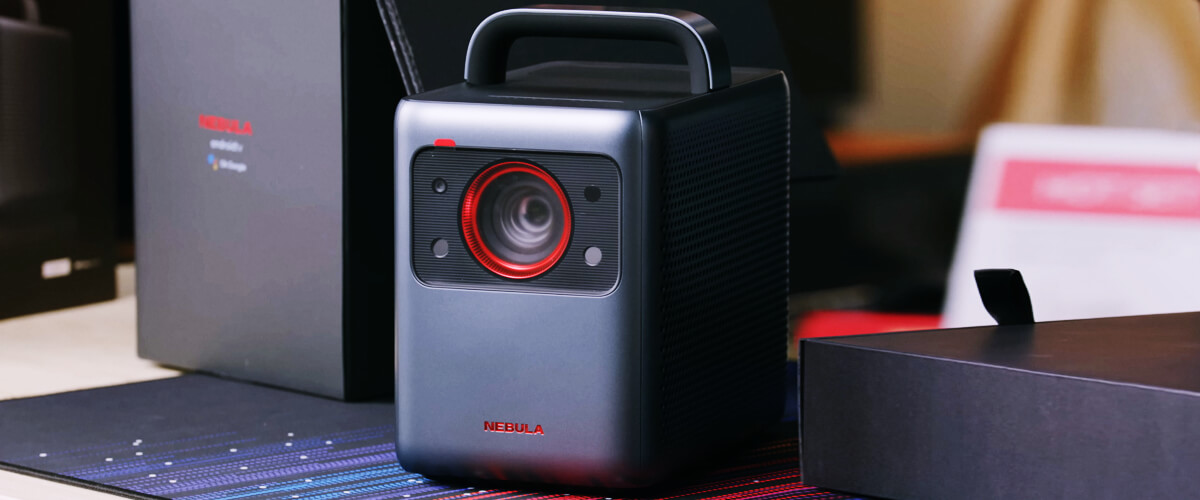 Mind that it has 2,400 lumens. In a dark room, the image quality is great. The daytime projection is adequate but may be a little short of the maximum high level.
Achieving a perfectly sized and centered image is simple with Cosmos Laser 4K. The IEA technology scans the room and configures the autofocus, keystone, and zoom. The auto keystone is tricky and may not fit into your projecting surface, so manual adjustment may be a preferred choice for your painting project. Besides, it seems to me that the NEBULA software has some problems, which make it difficult to connect to Wi-Fi.
Nevertheless, NEBULA Cosmos Laser 4K is a professional art projector for painting that will enable simple tracing. Having 3840 x 2160 pixels, you will get clear lines and precise detail reproduction, which is so critical in painting.
Key specs
Display technology: DLP.
Resolution, px: 3840×2160.
Brightness, ANSI lumens: 2758.
Contrast: 1500000:1.
Throw distance, ft: 5.5-13.8.
Image size, inch.: 60-150.
Wi-Fi: yes.
Built-in speakers: yes.
Pros
Supports 4K 3840×2160 resolution, bringing exceptional detail.
Works great in darker spaces.
Easy to set up and use.
Cons
Auto keystone correction may not work on all surfaces.
There are certain problems with Wi-Fi connection.
Kodak RODPJS75 – portable art projector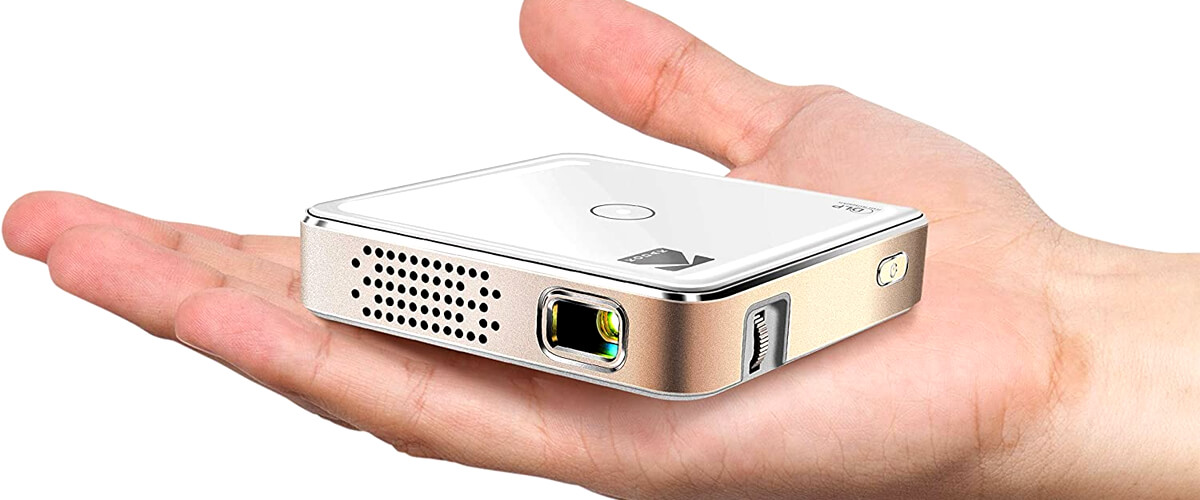 If your creativity flows work better when changing the setting, then Kodak RODPJS75 is your choice to go. It may win your heart over the AuKing M8-F due to its compact size – 3x3x0.8 inches. Just put the projector in your pocket, grab all your assets, and you are ready to create art anywhere.
The projector is powerful enough to produce the image in a 1080p resolution on a 80-inch screen. With a built-in battery, you can use RODPJS75 without the need to connect it to a power source. However, note that the battery drains quickly enough, and the charging cord is ridiculously short. Thus, it may require special placement considerations. It's good to know that this model is compatible with a tripod, so you can adjust the desired projection height to work on your art project without bending your back over it.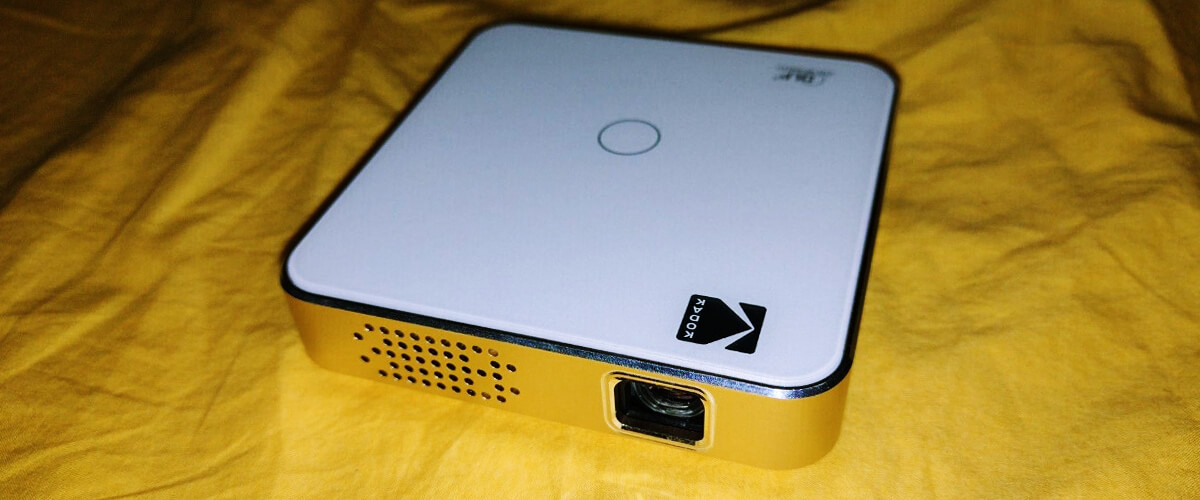 As it works with USB and HDMI drives, you'll be able to use a variety of portable media, which will provide greater versatility and simplify your work. I wish the brightness and clarity of the thrown images were a little better but let's confess – that's the cost for the compactness you gain.
Kodak RODPJS75 is a great portable projector for artists. It is mobile, versatile, and, most importantly, it does its main tasks well.
Key specs
Display technology: DLP.
Resolution, px: 1920×1080.
Brightness, ANSI lumens: 75.
Contrast: 1300:1.
Throw distance, ft: 0.6-12.5.
Image size, inch.: 5-80.
Wi-Fi: yes.
Built-in speakers: yes.
Pros
Incredibly compact, so it is easy to carry with you.
Produces images of good quality on a 80-screen.
Features a built-in battery to give you more freedom of use.
Seamlessly streams images via USB or HDMI.
Cons
The battery dies quickly, and the charging cord is too short.
Brightness and clarity are sacrificed for the portability.
AuKing M8-F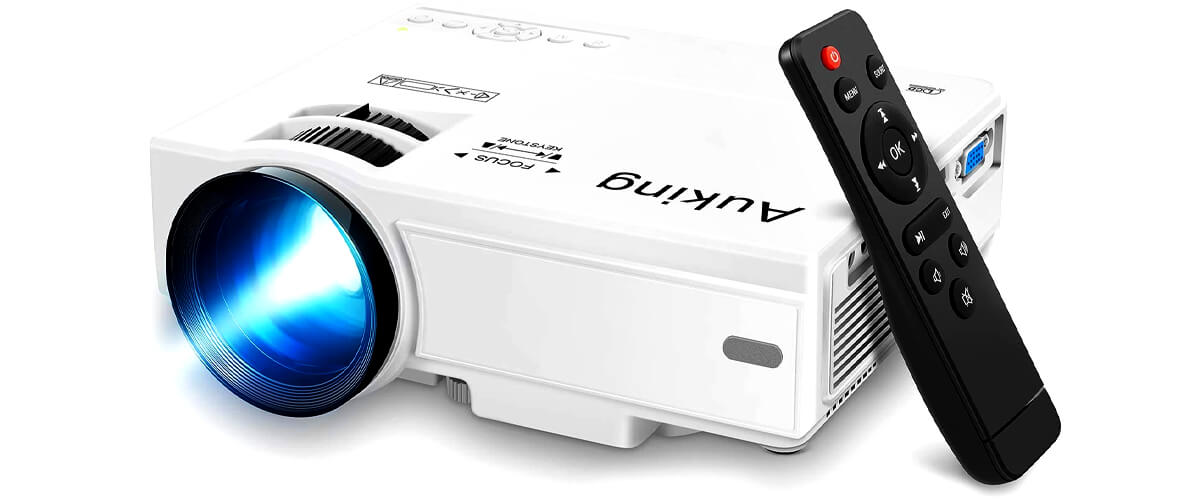 If you would like to see how a projector can help you draw better, start with a simple model like AuKing M8-F. Similarly to Kodak RODPJS75, it is a portable projector. But this one has more restrained capabilities, which are still enough to test the hypothesis that a projector is a worthy investment in your artistic future.
The AuKing M8-F is claimed by the manufacturer to have the same 1080p resolution as Kodak RODPJS75. Nevertheless, the clarity leaves a lot to be desired, and you are more likely to see pixels if you get close to the screen. But on the other hand, the projection size can vary from 32 to 170 inches depending on the distance – you need to have 3.2 ft to 16.4 ft from the projector to the surface.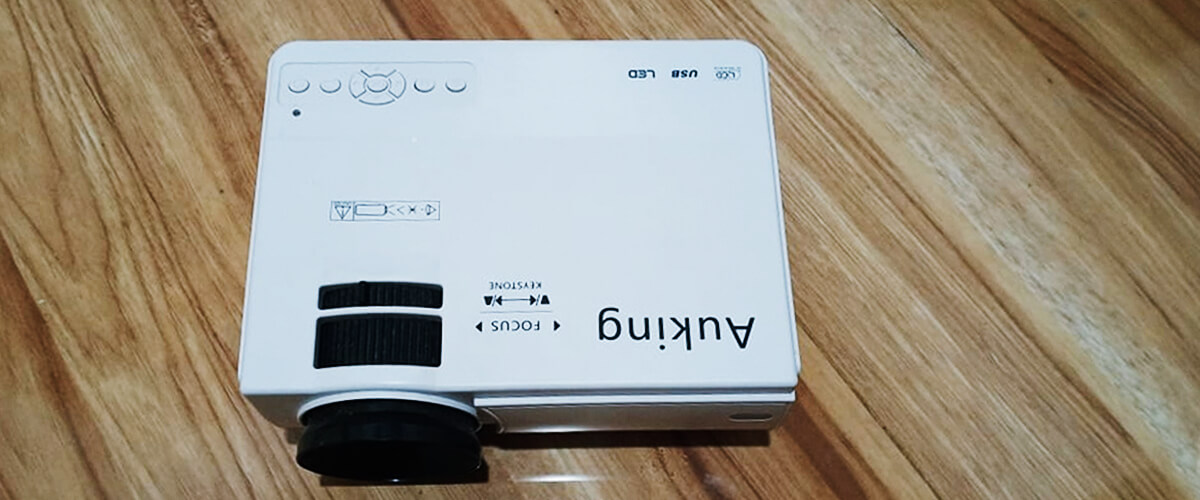 I recommend using this projector in a very dark room. I question the advertised 7,500 lumens in this projector. My personal impression is that the brightness varies from 1,500 to 2,600 lumens, depending on the settings.
As a beginner's art projector, AuKing M8-F will do its job pretty well. It will let you drill your skills outside of your studio. Also, the image quality is tolerable and sufficient for tracing.
Key specs
Display technology: LCD.
Resolution, px: 1920×1080.
Brightness, ANSI lumens: 3125.
Contrast: 2000:1.
Throw distance, ft: 3.2-16.4.
Image size, inch.: 32-170.
Wi-Fi: yes.
Built-in speakers: yes.
Pros
A compact design to enable improving your drawing skills in different environments.
The image size can go as large as 170 inches.
Moderately bright – sufficient for day-to-day needs.
Cons
Pixels became notable at a relatively small distance.
Brightness is lower than advertised.
ViewSonic PX800HD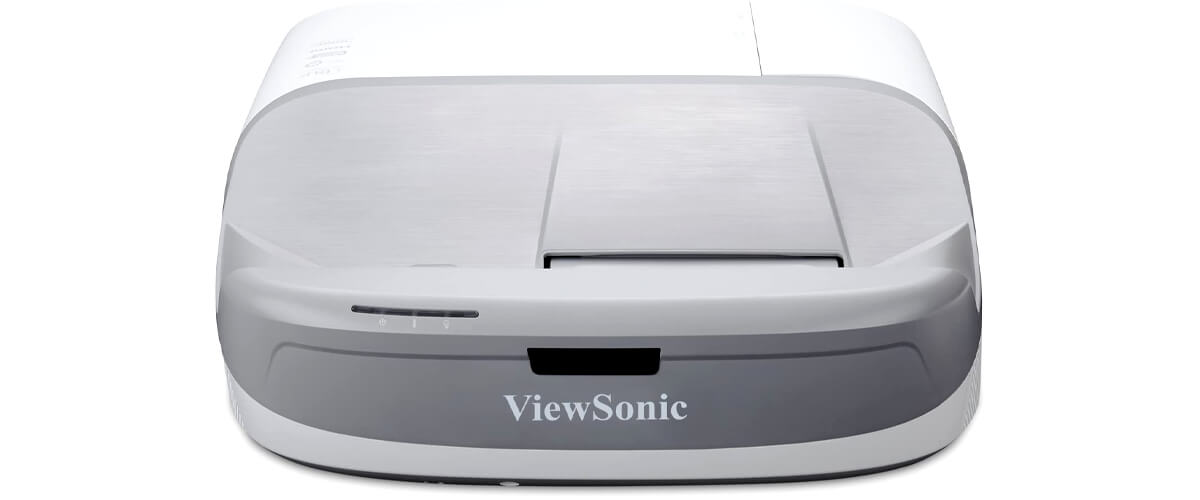 A small studio is not a verdict. With ViewSonic PX800HD, you can freely incorporate a projector into your artistic workflows. While you still need at least a 3.2 ft distance with a compact AuKing M8-F, this device has a 0.23 ultra-short throw lens for enabling a placement inches away from the projected surface.
With full-HD 1080p resolution, you will get a 70 – 150-inch image brimming with detail and vivid colors. The brightness may not be enough for covering larger images as the ViewSonic PX800HD features only 2,000 lumens. This parameter also makes this projector a doubtful choice for daytime use in the light studio.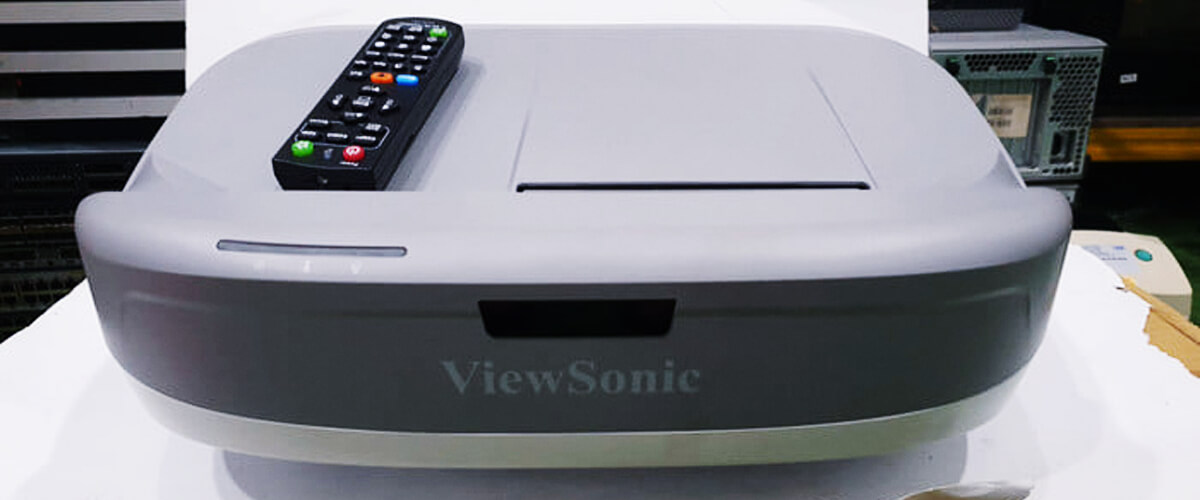 There is no option to zoom the image in and out. The focus is manual, so setting up this projector can take more effort and time than similar devices with auto-correction.
Anyway, the ViewSonic PX800HD is undoubtedly a wise choice that will provide you with a sharp image projection from a small distance.
Key specs
Display technology: DLP.
Resolution, px: 1920×1080.
Brightness, ANSI lumens: 2000.
Contrast: 100000:1.
Throw distance, ft: 0.3-0.7.
Image size, inch.: 70-150.
Wi-Fi: no.
Built-in speakers: yes.
Pros
Ultra short-throw projector that can be inches away from the projected canvas.
Sharp image in a dark room.
Projects the image from 70 to 150 inches.
Cons
No auto image adjustment functions, so setup can be time-consuming.
May not be bright enough for light environments.
FAQ
How do artists use projectors?
Projectors can be very helpful to artists. For instance, you can project the image onto the canvas to replicate the figure's outline – that's what you call tracing. Also, bringing the painted image to a large screen can give more detail, so you know what aspects of the drawing are fine and which should be polished. Thanks to the ability to deliver large images, projectors will become effective assistants when painting murals. After all, you can use this device to showcase your portfolio when you present your work skills to a new client.
Does tracing help with drawing?
As with any other skill, drawing requires plenty of repetition, practice, and knowledge of how to manipulate shapes on the canvas. Tracing is one of the ways to master your painting skills. Of course, it won't turn you into a certified artist overnight, but you will improve your hand-eye coordination and muscle memory, which are essential for controlling the shapes you create. That's how you can get familiar with different shapes and techniques. You learn what strokes to make when drawing this or that object.
Is using a projector to draw cheating?
Let's put it this way. You won't call a neurosurgeon a cheater because they use plenty of technology. These specialists have skills, knowledge, and experience. They use technology as a tool to deliver better results. So, using an art projector for drawing and tracing is the same. While you may replicate the form, no one will do the job for you – breathe life into the image outline with the right colors, shades, and visual effects.
You also can consider other decent projectors: